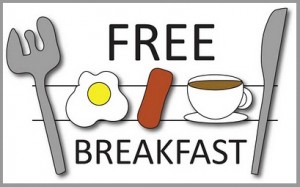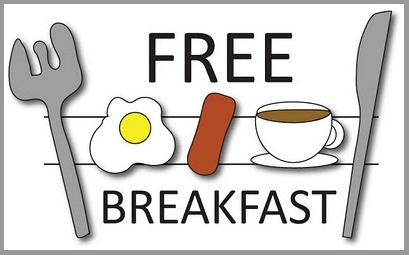 Trinity provides a free breakfast for people in the community at 8:00 every Saturday in the fellowship hall of the church. We are located at 5969 Brockton Ave., in Riverside, CA 92506 (near the intersection of Brockton and Jurupa Avenues).
As of May 2016, we now also serve a free dinner every Monday at 5:30 pm. Just like our Saturday breakfast, this is open to anyone in our community. We hope that people who are struggling financially will come and enjoy a warm welcome and delicious meal in our fellowship hall.
Volunteers are needed every Saturday, especially from 7:30 to 9:00 am, and every Monday at 5:00 pm. If you can spare 1 to 2 hours (or a few minutes even) on any Saturday morning or Monday evening, come lend a hand! You do not need to be a member of our congregation to join us for breakfast or dinner, or to volunteer to help make and serve these meals.
People may wonder, why are we doing this? We do it because Jesus taught us to help our neighbors in need. Jesus said that he is the Bread of Life, and he feeds our spirits when we gather for worship and Holy Communion. So we feel called to reach out in Jesus' name to feed hungry people. At Trinity Lutheran Church, we offer food for both body and soul!