women's Bible Study begins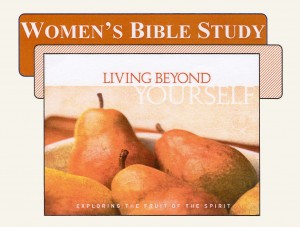 A new women's bible study "Living Beyond Yourself: Exploring the Fruit of the Spirit" led by Barb Beaver meets on Mondays beginning at 6:45 PM in Cooper Burkhart House.
Click for details  Women's Bible Study
fall dinner on 22 November 2015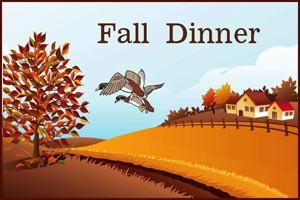 Join us for our annual fall dinner at 5:00 p.m. on Sunday, November 22nd. This year's dinner will feature delicious barbecue and a concert by SouthBound. Bring $5.00 for the dinner and your piggy bank with change. See you there!
p.i.g. Project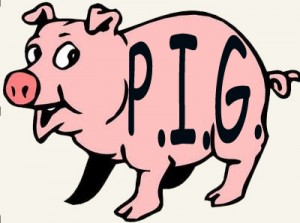 The PIG Project is a fundraiser to benefit the food pantries of Lutheran Social Services and Central City Lutheran Mission. Save your coins in piggy banks from now until the Annual Fall Dinner on November 22. Bring your piggy bank to Trinity that Sunday. The total amount of money collected will be used to help People In need of Groceries (PIG). If you need a piggy bank, please ask Michael Myers for one, or feel free to use any container you'd like. Thank you!
Thanksgiving Baskets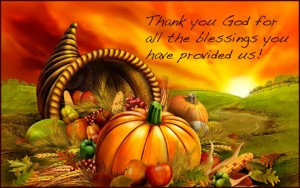 Do you know someone who could use some extra help at Thanksgiving? If so, please fill out a Thanksgiving basket nomination form and return it to church by next Sunday, November 8th.
Click for the Thanksgiving Shopping List
Please take it with you when you go shopping. The food baskets will be packed and distributed on Sunday, November 22nd.
Decorate the church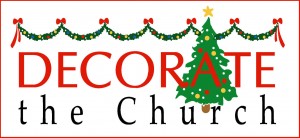 Come help decorate our church for the Advent and Christmas seasons on Saturday, December 5, starting at 8:00 am. There will be a pot luck lunch at 11:30 a.m. No need to sign up in advance — just bring your favorite dish to share!
alternative gift fair
Riverside's 35th annual alternative gift fair will be on Sunday, Dec. 6th, from 11 am to 3 pm at the First United Methodist Church, 4845 Brockton Ave., Riverside. This is an interfaith event offering fair trade and creative gifts. Flyers are available in the narthex and Heinecken Hall.
tree of giving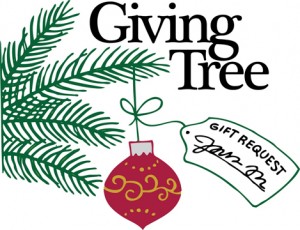 It's time to collect Christmas gifts for children in need! Moms and dads come to the Riverside office of Lutheran Social Services looking for gifts for their children. We're collecting gifts for children of all ages. Please take a tag from the tree in the narthex and buy a gift, then bring it to church. Please leave the gift unwrapped. We will take them to LSS each week as they come in, so that they can help as many people as possible. We will collect gifts through December 20th.
breakfast at trinity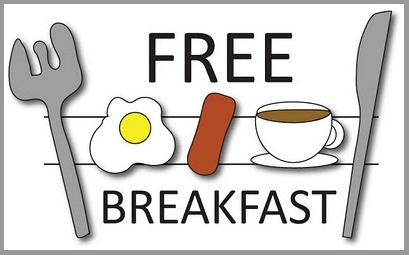 Every Saturday at 8:00 am a free family breakfast is served at Trinity Lutheran Church at 5969 Brockton Avenue in Riverside. All are welcome: kids and adults, singles and couples. No reservations are needed and the meal is free. The weekly menu features breakfast burritos, oatmeal, juice and coffee. Come and start the day out with a good breakfast.
Lutheran Cursillo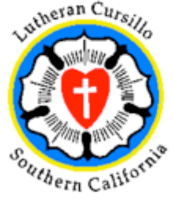 The next Cursillo weekends are in February 2016. Cursillo is a short course in Christian living. All members of the congregation are invited to attend. Click here for more information.
guitar & ukulele lessons
Mike Finn, lead guitarist for SouthBound, is our guitar teacher. Mike is an accomplished guitarist with over 30 years of experience as a musician and teacher. Mike teaches beginning, intermediate and advanced guitar lessons in 4-week sessions. Lessons are taught individually or in small groups of students. Mike also provides Ukulele lessons.
Click here for more information.