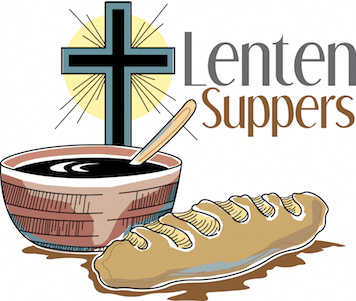 Bread is present throughout the pages of the Bible, but especially at key times in salvation history. During our midweek Lenten services this year, we'll look at some of the biblical stories involving bread, and explore themes of hospitality, generosity, sufficiency, and trust. We'll also share some of our own stories, as we reflect on the many ways God provides his people with bread for the journey. The Ash Wednesday communion service will include the traditional imposition of ashes as a sign of repentance. There is no soup supper on Ash Wednesday. From Wednesday, February 20 through March 20, there will be soup and bread suppers at 6:00 p.m. in Heinecken Hall, along with a message based on one of the "bread stories" in the Bible. In keeping with our Lenten theme, we plan to have fresh-baked bread as part of our Wednesday suppers.
Everyone is welcome to attend our Lenten Services. Dress is casual. Join us for Lenten worship plus great soup & bread.
Just click on the scriptures to read them.
Ash Wednesday, February 13, 7:00 pm: "Bread for the Journey" (Genesis 3:17-19)
Listen to the Ash Wednesday Message.
Audio clip: Adobe Flash Player (version 9 or above) is required to play this audio clip. Download the latest version here. You also need to have JavaScript enabled in your browser.
Wednesday, February 20, 6:00 PM: "Welcome Bread" (Genesis 18:1-16)
Wednesday, February 27, 6:00 PM: "Unleavened Bread" (Exodus 12:1-11)
Wednesday, March 6, 6:00 PM: "Daily Bread" (Exodus 16:1-21)
Wednesday, March 13, 6:00 PM: "More than Bread" (Matthew 4:1-4)
Wednesday, March 20, 6:00 PM: "Abundant Bread" (Mark 6:30-44)