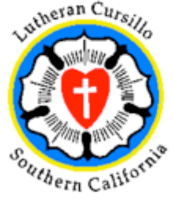 Since October 2003, many members of Trinity have attended a Christian retreat called "Cursillo". We have all had wonderful experiences at Cursillo, and would like to encourage you to prayerfully consider attending a Cursillo weekend. The weekends occur in pairs—a Men's Weekend followed by a Women's Weekend—in February, July and October each year.
Cursillo means "A short course" and literally is a "short course in Christianity" or a "short course in Christian Living." It is a three day, intensive study and experience of how to better live your life as a Christian. The weekends are led by a team of Cursillistas (defn: one who has attended a Cursillo) of about 50-60 people. The team consists of lay directors, clergy, musicians and cooks. The weekend begins on Thursday evening and ends on Sunday afternoon.
Cursillo began in Majorca, Spain (which is why many of the words that you will encounter are Spanish) in the Roman Catholic Church. Lutheran Cursillo of Southern California held its first set of weekends in June, 1990. LCSC uses Lutheran Theology and is led by Lutheran Clergy.
You must be an active member at a Lutheran church to attend. If you are married, both spouses should attend on the same pair of weekends. Weekends are held at Cursillo House in Pomona, California. About 30-40 people can attend a weekend, with another 50-60 on the leadership team. During the weekend, you will hear 15 talks and 5 meditations, there will be communion each day, and there will be plenty of good food, fellowship, singing (praise type music) and fun.
There is no cost involved in attending a Cursillo. The weekend is a gift to you from the community of those who have attended previously and those who are working on the team. A sponsor takes care of getting you there and bringing you home, as well as providing you with applications for the weekend.
The next set of weekends is May 3-6, 2018 (Men's) and June 7-10, 2018 (Women's). There will be a Spanish couples weekend on March 8-11, 2018. If you are interested in finding out more about Cursillo or would like to attend, e-mail us at currsilloinfo@trinityriverside.org or call the church office at 95 1-682-1350. You may also find more information by going to http://lcsocal.org/.
If you are a member of a Lutheran church and would like to attend a Cursillo weekend, click here for a Individual Reservation Request.
If you have already attended a Cursillo weekend and would like to work, click here for a team application.